Mini Barn & Hip Roof Storage Sheds
Mini Barns & Hip Roof Sheds are cute and quaint. If you want a storage shed but don't have a lot of room for one, these mini sheds are perfect. They fit in tight spaces and still hold a good bit of your storage items. They are strong and dependable and are easily installed in one day.
Sheds available in wood, vinyl, & board & batten siding.
Available in sizes from 6' x 8' to 14' x 32'
Mini Barn & Hip Roof Shed Ideas
---
Standard Features on All Mini Barn Sheds
The mini includes a double door in the gable end. One window in the back wall. Hip includes double door and two windows.
30 Year Architectural Shingles
Tech Shield in Roof
Gable End Vents
Double Doors
Two Windows w/ Shutters
Plywood or LP Flooring
2" X 4" Walls
16" on center studs
VINYL: Tech Shield in Walls
WOOD: Silverside Walls
Radiant Barrier on Roof – Keeps your shed cooler in the summer
Fight Back Against Termites & Rot
Our Wood-sided Buildings are Built Using LP® SmartSide® Products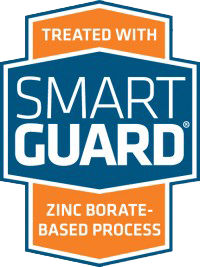 Treated For Everyday Durability
LP® SmartSide® products are not made of wafer, chip or particle board. In fact, our engineered wood products are made with our Treated Wood Strand Technology so you can rest assured your structure will provide years of beautiful service!
Extra Protection, Tested Tough
All LP SmartSide products are treated with our proprietary SmartGuard® process to resist fungal decay and termites in harsh environments. Tested in Hilo, Hawaii, LP SmartSide products continue to resist structural damage, even after years of exposure to thriving termite colonies and excessive moisture!
LP SmartSide Panel
Untreated T1-11 Plywood
Treated Oriented Strand Technology

YES

NO
Industy-Leading Warranty

YES

NO
Resists Fungal Rot and Decay

YES

NO
Resists Termites

YES

NO
Resists Delamination

YES

NO
Resists Splitting & Crackling

YES

NO
Resists Warping

YES

NO
Rich Cedar Grain Texture

YES

NO
*See lpcorp.com for complete warranty details.