Cabanas & Outdoor Bars
Cabanas are a type of specialty storage shed that are popular. These can be placed on the lake, near the beach or in your own backyard for that private getaway. They make great entertainment areas for family and friends. There are different shapes like octagon, rectangular, hexagon or elongated hexagon. Choose whatever style you wish, and we will have it built.
Available in wood, vinyl, & board & batten siding.
Available in sizes from 8' x 12' to 14' x 36'
Cabana & Outdoor Bar Ideas
---
Standard Features on All Cabanas
Gray proCell flooring in deck
5/8 plywood floor in cabin
16" O.C. rafters with 1x6 tongue and groove
30 year asphalt shingles
Windows not included in base price
Radiant Barrier on Roof – Keeps your shed cooler in the summer
Fight Back Against Termites & Rot
Our Wood-sided Buildings are Built Using LP® SmartSide® Products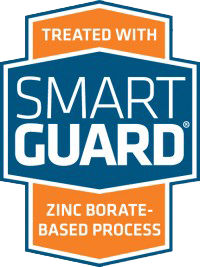 Treated For Everyday Durability
LP® SmartSide® products are not made of wafer, chip or particle board. In fact, our engineered wood products are made with our Treated Wood Strand Technology so you can rest assured your structure will provide years of beautiful service!
Extra Protection, Tested Tough
All LP SmartSide products are treated with our proprietary SmartGuard® process to resist fungal decay and termites in harsh environments. Tested in Hilo, Hawaii, LP SmartSide products continue to resist structural damage, even after years of exposure to thriving termite colonies and excessive moisture!
LP SmartSide Panel
Untreated T1-11 Plywood
Treated Oriented Strand Technology

YES

NO
Industy-Leading Warranty

YES

NO
Resists Fungal Rot and Decay

YES

NO
Resists Termites

YES

NO
Resists Delamination

YES

NO
Resists Splitting & Crackling

YES

NO
Reisists Warping

YES

NO
Rich Cedar Grain Texture

YES

NO
*See lpcorp.com for complete warranty details.